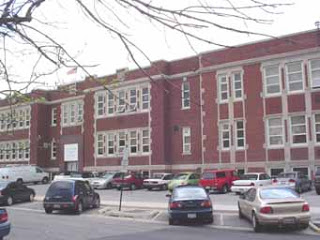 Yesterday I spent the evening at Columbus East School as the guest author at their second annual Author's Fair. I was thrilled to be a part of it, the students had such great questions for me, but, even better, read such beautiful poetry! Most of which they'd written themselves. I have no doubt the gym last night held authors I'll be hearing from again.
The only bummer is I forgot my camera and cannot show you the amazing display tables of student work. I particularly enjoyed a story about a school bus that got sucked into a vortex! Now that's some drama.
On my way home I was driving very carefully (it was raining) but couldn't help notice one billboard out of the corner of my eye. It was for Moonvertizing–shine your ad by high-intensity laserbeam onto the surface of the moon! I couldn't help feeling that I'd driven into a dystopian science fiction novel. Are the Moonvertizing people allowed to do that? Seriously? Who does the moon belong to anyway?! What if I don't want my view of the night sky to be marred by a beer commercial?
Then I got smart and googled it.
Just a hoax, people! We are safe…for now.
But sheesh, am I gullible!


But here's something that is absolutely true. The release date for THIRD GRADE BABY is now exactly four months away! I'm celebrating with this nifty countdown clock.

Myspace Countdown Clock
You'll also see it if you scroll all the way down to the bottom of the page!
And if you can't wait for months, other exciting things are also afoot. I'll be appearing on a panel of first-time children's book authors at the Printer's Row Book Fair in Chicago on June 7. More details to come!