Guess where I went on Wednesday!
I'll give you a clue: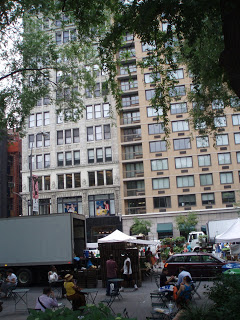 Still don't know?
Okay, how about a multiple choice question?
a) A chocolate factory. (Nothing but truffles all day.)
b) A spa. (Nothing but massages all day.)
c) A book store. (Nothing but reading all day.)
d) The offices of Farrar, Straus & Giroux. (Nothing but pinching myself because I'm actually going to be a published author all day.)
And the answer is… (drumroll, please)
D!!!
I had a fabulous lunch with my editor. We talked about books, publishing and life. I came away knowing, even more than I already knew, that my book is in great hands. I also got to meet many other fabulous folks at FSG. And even though none of them had heard of me yet because my first book isn't even out of copy-editing, I still felt quasi-famous as I was introduced around the office! (Which is, by the way, exactly as a publishing house office should look. Books and papers piled everywhere!)
As if my day wasn't already fab enough. Later on, I went to Penelope Cafe: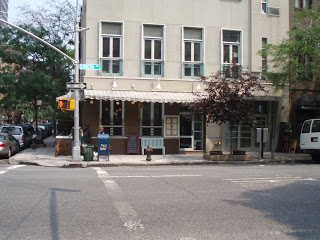 True or False: Jenny met her fantabulous agent there and they talked so long she almost missed her flight, which in the end didn't matter because the flight was cancelled due to bad weather, and she was told that there were absolutely no flights on any airline from any airport that could get her back to Chicago for at least 24 hours!
The answer is false! There were no flights for 48 hours! ACK!
But all turned out well in the end. United opened up a new flight, and I only had to stay over one night. Phew!
Now I'm home and so motivated to get back to work on my latest WIP. Because I want to have more visits like this one!