One of the most exciting things about my book (for me) is that it is a classroom book. By that I mean, much of the action takes place at school, and it's the kind of book teachers could really have fun with in their classrooms. It's one of my favorite things to think about really, classrooms reading my story, having discussions about why Zachary behaves the way he does, whether Polly plays any role in his behavior toward her, and that all important question: Are third graders too old for the tooth fairy?
That's why it was so gratifying and exciting to read that Instructor Magazine has listed THIRD GRADE BABY as one of its top five new back to school books this year, calling it a "debut chapter book from a hilarious new voice." Here's the rest of the online version of the article if you are interested.
In other news, thanks to the many, many teachers parents and students who have entered the contest so far! I wish I could send you all a Box O' Fun!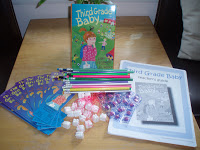 The first drawing will take place at the end of the month, so there's still plenty of time to enter if you haven't already!
An especially big thank you to the teachers who've emailed me to say that they've already ordered a copy of the book even though they are entering the contest as well. As I've emailed them privately, I'd be happy to do a "virtual" email visit with any class who reads the book and would like to talk to me afterwards. It would most definitely be an honor and a privilege.
Hope everyone is having a very summery August! I'm off to the pool.