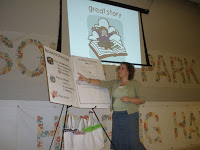 What a day I had yesterday! I spoke to the fabulous students at South Park Elementary School about writing stories. The kids were so full of questions and ideas and I met several who told me that they wanted to be authors when they grow up. I'll have to be sure to start looking for their books in about fifteen years. (It'd be pretty young to have a book published, but I could tell from the way they helped me plan a story that these kids really knew what they were doing!) There I am right there standing in front of an oversized book filled with the giant story planning worksheets I've written for students.
And as I am the queen of worksheets (I've dubbed my own self this, but I don't think that makes me any less royal,) it makes me so happy to know that my elementary school worksheets are going to used by kids so excited about using them! The regular size ones, that is, that I left for teachers to photocopy and use in their classrooms as they see fit.
Now I really can't wait until my book is out! Because then I'll be ablt to talk to students about Polly Peterson too.