Goodness, I must have been more tuckered out from the kidlitosphere conference than I thought. It's taken me almost a complete month to recover and post again. (Well, that and I was lost in a corn maze for a very long time, either about fifteen minutes or eight days.)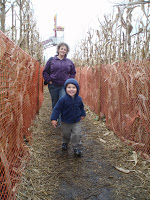 So here's the part with the irony. Guess what am I going to post about? Another conference!
Tomorrow I'll be attending Prairie Writer's Day, SCBWI Illinois' fabulous fall event. I am going to learn all kinds of amazing things about the publishing business. I will glean beaucoup d'informative tips on making my writing stronger. I will hobnob with other interesting and incredibly attractive Illinois writers.
Last year at this very conference my editor (who was not then my editor) asked me to revise the chapter book manuscript I had submitted to her. The very chapter book manuscript that is now THIRD GRADE BABY, actual chapter book.
And speaking of THIRD GRADE BABY, actual chapter book, recently I got to see the actual fonts in which the book will be printed. THE FONTS! And I love them. (I'm not just saying. Fonts are something I care deeply about. As proof, I offer this fact: the most exciting thing I got for my birthday, which was on October 18th–a day when I might still have been in the corn maze–was Print Shop 22 with over 700 fonts! True, it does take a rather long time to scroll through them, but still. The alphabetic variety!)
And then, only days later, I got to see the illustrations! (Yeah, they sort of blew the fonts out of the water.)
It's so unbelievably cool to see your characters in pencil-created form. Especially extra-extra cute pencil-created form. I can not wait to show you them, but I fear it may still be a while.
Oh, if you think of it, please remind me to bring my camera tomorrow. (I never remember my camera.) If I remember it (and then also remember to take pictures.) I'll post them for you!
How does one remind oneself to remember things?